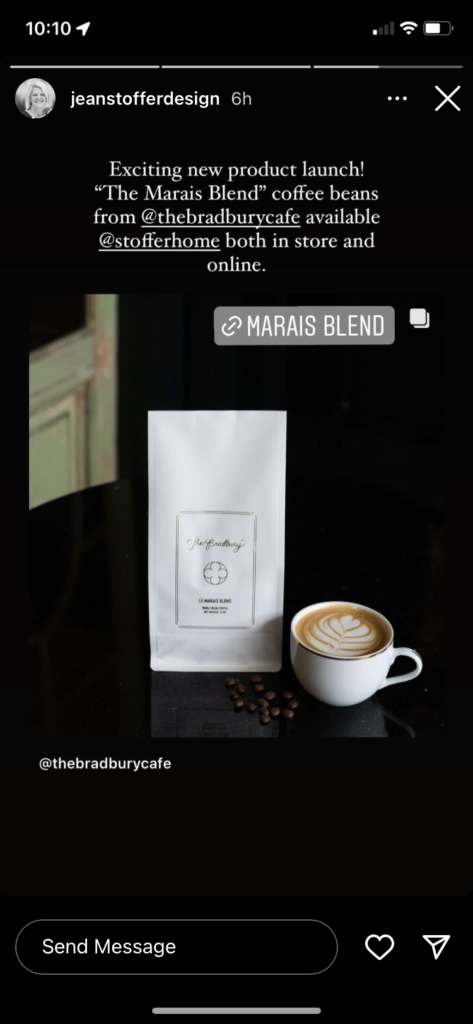 I love all things home and interior design/ DIY and follow several designers on Instagram and watch their shows on HGTV, Discovery+, etc,  Jean Stoffer, who I follow, has a TV series called The Established Home and was also highlighted in another series called "A Point of View."  She's particularly well-known for classic kitchen design and I love many of her kitchens as well as her down-to-earth and family-focused business practices!
That said, I saw the image above in her IG stories and stopped in my tracks for a couple of reasons.
First, why is she selling coffee?  Yes, the Bradbury Cafe is in her retail shop, Stoffer Home, in Michigan. However, do I think she or her son who started the cafe are really the best folks to guide me to new coffee blends? To their credit, they're using the cafe brand and not the Jean Stoffer Design (JSD) brand, but for most of her audience, they're one and the same. Her JSD Instagram account has 406K followers and a blue checkmark while The Bradbury Cafe has 7,248 followers and no blue check- so most people will see this as a JSD product as it's sold through her Stoffer Home store in Grand Rapids.
Secondly, the name of the blend bugged me. This one might be more of a 'me' quirk than a general marketing issue. Le Marais is a neighborhood in Paris that is home to the Jewish Quarter. It is a bit more boho than some other Parisian neighborhoods. Jean Stoffer is not boho at all. It just seems off to me.
Have you seen brand extensions that you thought were great?  Any that you thought were terrible?   Have you considered extending your own brand?  In what ways?