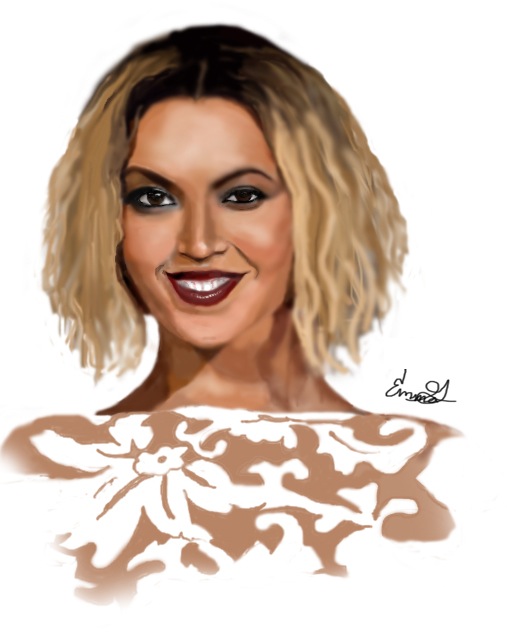 Beyoncé by Emma Gobler (my older daughter)
Feb 2014
I used to watch the Super Bowl for the commercials but then it became really easy to watch the commercials online later without sitting through the game. So now in my household, the tv comes on for the half-time show. My younger daughter turned it on a bit early as she didn't want to miss any of Beyoncé's performance with the headline act, Coldplay.Just the day before, Beyoncé had dropped (that's the lingo) a new song via video and announced it on Instagram.  Her fans (including both of my daughters) rushed to Tidal (the music site, launched by her husband, Jay-Z which exclusively hosted it but allowed access for free) to see the new video and hear the new music.
Her fans were now even more excited about her Super Bowl performance and more likely to make sure they tune in.  She, of course, rocked her performance and that half-time show was immediately followed by an ad that announced (for the first time) her upcoming live concerts with pre-sale starting the next day for most of the venues.
Wherever you are on the quality of the music, the political aspects of the music or performance, etc, the marketing efficacy was really a thing of beauty.   And the way she and her team are able to keep things under wraps for an even bigger impact is also incredibly impressive.
The blend of anticipation, performance, and captive audience, for maximum impact were stellar.  Now, most of us do not have the resources of Beyoncé to pull off a launch quite like hers!  But, how do you launch your new offers?  Your new ventures?  Are there lessons you can take from this example?