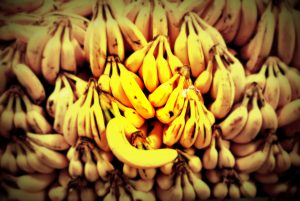 I love Mailchimp. As much as a monkey loves bananas (well, most likely).
I've used a few other email marketing systems over the years for clients who have already had accounts with others (Constant Contact, Aweber, iContact, etc.)   I prefer Mailchimp for clients who don't need super-fancy auto-responder options. In my opinion there are several advantages:
 It's free to start and forever free if you don't need extra features or you list stays relatively small.
It does allow for upgrading as your list grows or your need for features changes.
It's easy to use.
And who doesn't like to look at a cute monkey giving you a high-five when you send out your email newsletter!

I recommend a single column basic format for most of my clients as that renders well on both a computer and a mobile device.  I'm not a fan of the two column option on a phone.

I also recommend testing your subject lines.  Mailchimp makes that super easy with their A/B testing option.   You set two different subject lines and then 10% get version A, 10% get version B and after the testing time period, the other 80% get the winner!   You can also get a head start with which subject lines to try with the info in this article from Mailchimp:Email Marketing Research on Subject Lines.

If you want some help with your email marketing, or other marketing efforts, schedule your free consultation here.